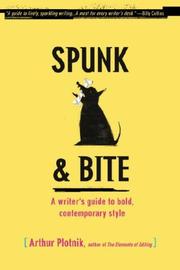 I like discussing and critiquing characterization and plot devices, but it's much more difficult to do the same with style. That's not just individual, it's incredibly flexible. It's influenced by several factors, including the author, the concept, the genre, the time period during which the story is set and so on. And very often, books on writing will warn you what
not
to do – e.g. no head-hopping, no adjectivitis – without giving you an idea of what you
can
do, who's tried it before and how it worked for them.
Enter
Spunk & Bite: A Writer's Guide to Bold, Contemporary Style
.
If you ever wanted to play with punctuation, coin new terms and push the envelope right out of the ballpark, this is worth a look. It's crammed with information that I might have found dry and scholarly in another context – much as I love writing, I find terms like "enallage" and "catacosmesis" a bit difficult to remember. But the author, Arthur Plotnik, always provides vivid examples, not to mention quotes ranging from Walt Whitman to Harry Potter.
Catacosmesis
delivers statements in descending order of importance, often ending with a surprising triviality : I ask for peace, prosperity, and a bagel with cream cheese.
I still think whoever coined that term could have come up with something easier to remember, but to balance it out I learned
miniphor
- a subset of the metaphor. The chapter on colors is a paintbox in prose, with figures of speech like "an orange dress the color of a mussel's lip". It's like a more fun version of a thesaurus. And there are quizzes at the end of each chapter.
Adverbs, tenses, semi-colons, onomatopoeia, neologisms, dialogue tags or the lack thereof - I knew before I started
that
chapter it would reference
Cold Mountain
- dangling modifiers and "the poetry of lists"... this book has it all. Rather than a dry, do-this-don't-do-that guide, it's a jostling crowd of fascinating factoids which makes it clear that writers, on paper at least, can get away with (almost) anything.