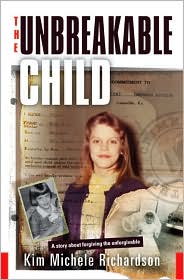 I've read a few memoirs dealing with child abuse (
A Child Called It
,
Ten Thousand Sorrows
), and while these made me feel sorry for the children in those stories, they never got beyond that. The abuse in them was too difficult to imagine. The accounts were so bleak that I either detached emotionally or found them not fully convincing or both.
With that in mind, I read Kim Richardson's
The Unbreakable Child
because it described the years she spent in a Catholic orphanage. I'd attended a fairly strict Catholic school, so I thought that would give me a way to connect with Kim's story.
I was wrong for two reasons. The first is that other than being run by nuns, there wasn't much the two facilities had in common. The second is that Kim's poignant, realistic memoir formed that emotional connection all by itself. The ill-treatment she went through is brutal but believable; I wanted to curl my fingers inward to hide my nails as I read this book. And the single-sentence description of sexual abuse – touching with the hands rather than the heart – is unforgettable.
Kim and her three older sisters were placed in the care of the State, which handed them over to the Sisters of Charity of Nazareth. She was only three at the time, yet had to conform to rigid standards of conduct and endure incredible cruelty. Yet this isn't an unrelieved, one-note account of abuse. There are bright moments, like Kim's eighth birthday present, a bracelet from one of the few adults who treated her kindly. Resourcefully, she hid that from the nuns, who confiscated any personal possessions.
Most of all, though, her story of the past is interwoven with her life in the present, where she and other survivors of the orphanage brought what had been hidden into the light. Represented by attorney William McMurray, they successfully sued the Sisters of Charity. But Kim's greatest victory was to find happiness with a family of her own, to keep her love of life, and to be unbreakable in every sense of the word.
I'm grateful that she wrote this book, and that I read it.